See original story from UNLV News Center
Looking back on 150 years of rich Nevada history in its sesquicentennial year, it's clear that Las Vegas has played a large role in making the state what it is today. UNLV has contributed to this history as both the first institution of higher education in Southern Nevada as well as a repository for valuable materials documenting the state's history.
UNLV Libraries' special collections, founded in 1967, is considered the oldest repository for historical documents in Southern Nevada. Its earliest collecting efforts centered on the lives of the pioneers who had settled in the area in 1905, when a land auction officially marked the birth of Las Vegas.
After nearly 50 years, the collections now hold thousands of books, manuscripts, photographs, maps, posters, ephemera, newspapers, oral histories, videos, and more. For those people who associate Las Vegas only with gambling and the Strip, it can be hard to imagine a time when the railroad and the surrounding desert were the dominant features of the area. Here are five collections that will set them straight.
---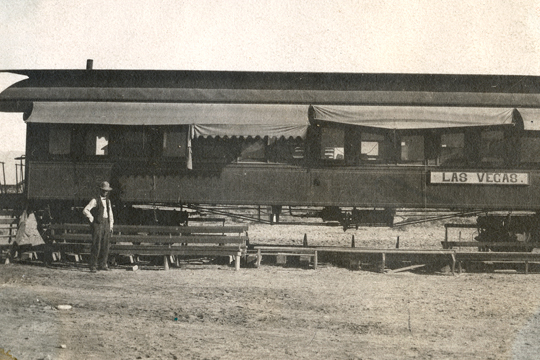 1. Union Pacific Railroad Collection
The single most important collection on early Las Vegas contains the official corporate records of the Union Pacific Railroad. These document the purchase of the land (the original Stewart ranch) and the construction of the original depot and town that became modern Las Vegas.  Comprised of nearly 175 linear feet of documents, maps, and architectural drawings, the collection also contains the records of the Las Vegas Land & Water Co., a subsidiary of the railroad, formed in 1905, to handle all the railroad's land transactions.  [Pictured: The first Las Vegas railroad station was built from an old traincar placed on a siding, circa 1905. UNLV Special Collections]
---

2. Squires Family Papers & Photographs
C.P. or "Pop" Squires and his wife, Delphine Squires arrived in 1905, the year Las Vegas was founded. Squires, long-time editor of the Las Vegas Age (predecessor to the Las Vegas Review-Journal), was instrumental in lobbying for the construction of Hoover Dam, while Delphine Squires was a founding member of the Mesquite Club, the oldest women's club in Las Vegas. The collection contains their personal papers and photographs, offering a rich look into the lives of two of our early pioneers. [Pictured: Delphine Squires in the window frame of their home under construction at 411 Fremont Street, circa 1906. UNLV Special Collections]
---

3. Helen Stewart Papers & Photographs
The personal papers and photographs of Stewart, known widely as "the first lady of Las Vegas," document her Las Vegas ranch and its surroundings before she sold it to the railroad in 1902.  The photographs are particularly notable in providing visual evidence of the early Las Vegas landscape surrounding the old Mormon Fort, which included the Las Vegas Creek, orchards, and cattle as well as Stewart's legendary Indian basket collection. [Pictured: Helen J. Stewart, circa 1905-08. UNLV Special Collections]
---

4. Las Vegas City Commission Minutes
These large, imposing volumes provide the official record of the first governing body of the city after its incorporation in 1911 through 1958. Early city ordinances against burros, swearing, and expanding the borders of the city's red light district illustrate the frontier nature of early Las Vegas. [Pictured: Las Vegas City Commission minutes, 1911. UNLV Special Collections]
---

5. Ferron-Bracken Photograph Collection
The Ferrons and the Brackens were neighbors and pioneers of early Las Vegas. Their photograph collection of more than 200 images provides a compelling visual portrait of the early Las Vegas landscape – its people, its buildings, and the community activities that provided recreation and leisure for early residents. [Pictured: Walter Bracken (right) and another early Las Vegas resident are pictured near the banks of the Las Vegas Creek, ca. early 1900s. Accompanied by two dogs and carrying shotguns, they may have been out hunting. UNLV Special Collections]